By Sonny Shrivastava
Yes, the housing market will crash. Eventually. If I had a nickel for every time someone asked me this question I'd be retired by now. If I had a crystal ball with which to answer that question I'd be the richest man in the world. Since neither are true, let's rely on the experts to see what they say…
Supply and Demand
According to a July report from CoreLogic, home prices continue to rise in Arizona and that situation will not change until we see more supply. We are in a perfect storm for rising home prices because there are more buyers than there are houses for them to buy. According to CoreLogic, home prices in Arizona have increased an average of 7.4% year-over-year.
Frank Martell, president and CEO of CoreLogic, said in a press release that even in the most expensive markets, nearly four times as many renters were looking to buy than homeowners were willing to sell. Across the country, 15% of homeowners and 28% of renters have shown a desire to buy a home during the next year, yet only 11% of homeowners have shown a desire to sell. Until these numbers reverse, prices will keep going through the roof.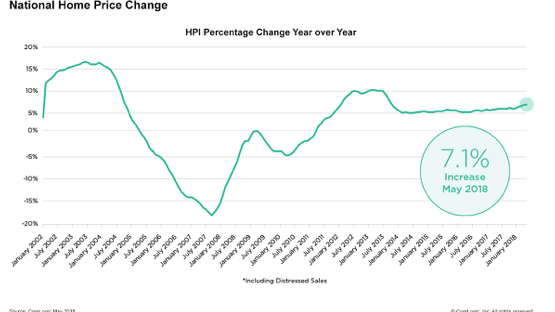 Red Flags
The real estate market never crashes without warning signs. If you are concerned about the market, here are some key indicators you can follow:
Mortgage applications
Existing home sales
Unemployment rate
Consumer confidence
Mortgage Applications
According to CNBC, mortgage applications fell 17% from a year ago. Don't fret, however. They fault soaring prices as the reason behind the drop in mortgage applications. In other words, buyers are getting priced out of the market and are choosing to stay put. On its face this doesn't appear to be negative news for anyone except banks and mortgage brokers. If anything, this drop in mortgage applications is likely nothing more than a symptom of a hot market. If more buyers get out of the hunt, however, we could see the market start to cool.
Existing Home Sales
According to NAR—The National Association of Realtors®—existing home sales decreased for the third straight month in June. This report has been all over the news lately.
Reading the headlines, you'd think something terrible was happening. Don't panic! When look at the actual numbers, existing home sales are down only 2.2% from a year ago—in other words, nothing. Headlines are often misleading. When pressed, Lawrence Yun of NAR said,
"The root cause is without a doubt the severe housing shortage that is not releasing its grip on the nation's housing market. What is for sale in most areas is going under contract very fast and in many cases, has multiple offers. This dynamic is keeping home price growth elevated, pricing out would-be buyers and ultimately slowing sales."
While sales were 2.2% lower year-over-year nationally, median home price was up 5.2% in the same time period. June's national medial home price hit an all-time high at $276,900. The bottom line for NAR is the same as CoreLogic's—prices will continue to rise until more inventory comes online.
Unemployment Rate
Looking at the unemployment rate historically, it has been declining steadily since about 2013 and continues to hover around 4%. The trend line would indicate that we should expect to see only minor drops, if not a leveling. Regardless, this is great news. If unemployment starts creeping up, consumer buying power is reduced and fear starts to set in. If you see that happening, pay attention to the other indicators to paint a complete picture.

source: tradingeconomics.com
Consumer Confidence Index
The Consumer Confidence Index measures Americans' confidence in the economy. According to MarketWatch, this indicator hit an 18-year high in May. According to an economist at Barclays,


"Consumer confidence has remained resilient in recent months despite uncertainty stoked by anti-trade rhetoric and stock market volatility."
The high level of confidence reflects a sturdy economic expansion in the U.S. that's about to turn nine years old with no end in sight. Job openings are at a record high and unemployment is at a 17-year low. This is all great news.
The Verdict?
Here we go with the crystal ball thing… If I had to wager money, I'd put my chips on the market staying healthy into the foreseeable future. The major indicators are all showing growth, confidence, and stability. The only softness we see is in demand fueled by buyers being priced out of their markets by quickly rising prices.
What is the worst thing I see happening? With fewer buyers due to affordability issues, we will see supply/demand reach more of an equilibrium. That means we could see appreciation retreat from its record high levels, but there is certainly nothing here that would indicate a "crash" or even a drop in home prices.
My Recommendation: If you are buying, get off the fence! The longer you wait, the less you will be able to afford due to rising home prices and rising interest rates. If you have an existing home to sell, use our free property valuation tool to get an idea of what it's worth.